On our lower level we have created a huge area dedicated to rest and recreation. Having this "Play Zone" separated from the Living Areas gives everyone options of something special to do. This area is unique in terms of extent of options, of size and quality of the facility.
There is a games room with a full size pub-style pool table, full home cinema with 40″ LCD TV, DVD, Sky TV and XBox as well as our well known Spa area with sauna and Jacuzzi
…all linking to a new stone walled terrace with a hand crafted cedarwood hot tub overlooking the lake and village of Tignes Les Brevieres.
Games Room
Our concept behind having such a great Games Room was to provide an alternative place where you can shoot some pool, watch a big match on Sky TV or just be loud without disturbing any of your friends who might want a quieter moment in front of the lounge fire upstairs.
You have a choice of entertainment as we provide all of the following toys:
– Free play UK-sourced Pool Table
– 40″ LCD TV & Home Cinema
– Sky TV package
– Free play Table Football
– There is also a competition standard table tennis table upstairs in the boot room
SEE CHALET FLOOR PLANS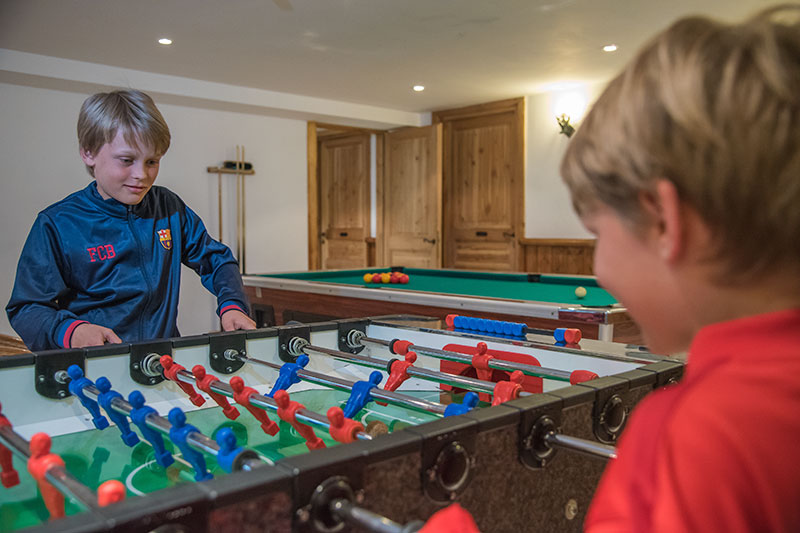 Please see our Spa Section on the main menu for full details of what we offer:
– Finnish Sauna
– Top of the range luxury jacuzzi with multiple massage jets
– Outdoor hand crafted cedarwood hot tub on a fabulous new terrace overlooking the lake and village of Tignes Les Brevieres